By now, most of us are aware of the Equifax Data Breach in which Cybercriminals hacked and stole personal identifying information including: Names, Social Security Numbers, Birth Dates, Addresses and Driver's License Numbers.
Everything needed for Identity Theft.
How do you find out if you were affected by the breach and if you are affected, what should you do?
Equifax has created a website where you can check to see if you were potentially impacted by the Breach. www.EquifaxSecurity2017.com If you were, Equifax is recommending enrolling in a Credit Monitoring Service.
I personally went to the site to see what my "Impacted" status was.
These are the screens that I encountered: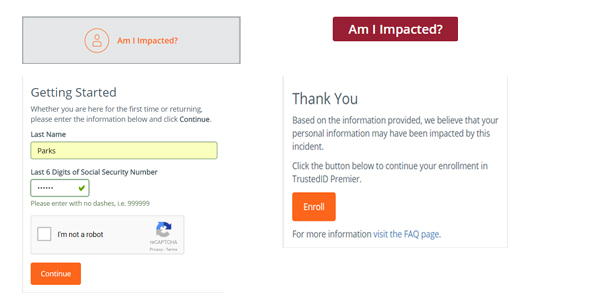 Apparently, my information may have been "impacted".
At this point, I have the option of enrolling in credit monitoring through TrustedID Premier at no cost for the first year. You can place a Credit Freeze on your File. Each credit reporting agency will need to be contacted and $10 fees paid to each agency to place the freeze. Keep in mind that if you do this, any financial transactions (buying car, house) will be affected as finance companies will not be able to access your credit report. The freeze is reversible, but you will need to contact each of the credit reporting agencies again to get the freeze lifted and pay yet another $10 fee to each of the agencies.
Credit Freeze
Transunion:
https://www.transunion.com/credit-freeze/place-credit-freeze
Equifax:
https://www.freeze.equifax.com
Experian: